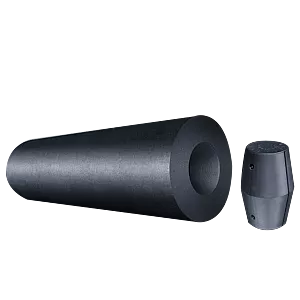 Product introduction
HP Graphite Electrode mainly uses petroleum coke, needle coke as raw material, coal tar as binder, is made after calcinations, ingredients, kneading, pressing, roasting, graphitization, machining. It is featured with oxidation resistance, low resistivity, acid and alkali corrosion, high efficiency and energy saving and low loss. HP Graphite Electrode is mainly used for high-power electric arc furnace and ladle furnace to steelmaking.
Electric furnace steelmaking uses graphite electrodes to introduce current into the furnace.
A strong current generates an arc discharge through the gas at the lower end of the electrode, and uses the heat generated by the arc to smelt.
Graphite electrode is an important conductive material in smelting industry with good electrical conductivity, thermal conductivity and high mechanical strength, good corrosion resistance under high temperature. Graphite electrode is widely used in EAF, LRF, submerged arc furnace(producing ferroalloy, pure silicon, yellow phosphorus, calcium carbide etc), resistance furnace (such as the graphitization furnace, glass melting furnace and silicon carbide furnace etc).