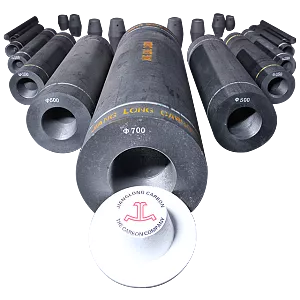 Product introduction
Our UHP (ultra high power) graphite electrode uses 100% high-specification needle coke as raw material, mainly used for ultra-highpower electric arc furnace steelmaking, and are processed by complex crafts such as calcining, crushing, milling, batching, mixing, forming, roasting, impregnating, graphitization and mechanical processing.

Our UHP electrodes have good electrical properties and chemical stability, high mechanical strength at high temperature, less impurities, good seismic performance. They are good conductors of heat and electricity, and are widely used in steelmaking electric arc furnace, refining furnace, producing ferroalloy, industrial silicon, yellow scale, corundum, etc, ore furnaces and other melting furnaces that use electric arcs to produce high temperatures.

We can provide UHP graphite electrodes with diameters 300mm, 350mm, 400mm , 450mm, 500mm, 550mm, 600mm, 700mm and 750mm with good quality.
UHP Electrodes Notes:
1. The graphite electrode with moisture shall be dried before use.
2. Remove the foam protective cap from the spare graphite electrode hole and carefully check the inner thread of the electrode hole for completeness.
3. Clean the spare graphite electrode surface and hole thread with oil – and water-free compressed air. Avoid using wire or metal brush gauze for cleaning.